Didi Deer Coin Purse
Didi the deer is here to help you store and safeguard your coins. This deer is so cute with her big button eyes. This is a simple purse to make for both kids and adults. So, get your fabrics ready and let's meet this dear with those beautiful eyes. I'm sure you will absolutely find this purse very functional and great for holding not only your coins but also your keys, little candy and much more.
Materials needed:
Fabric, Body – Brown, approx 13.5″ x 10″
Fabric, Ears – Yellow approx 4″ x 4″
Fabric, Muzzle – Beige, approx 2.5″ x 3″
Felt, Face – White, approx 3″ x 2″
Felt, Mount – Red, approx 0.5″ x 0.5″
Batting or Felt – approx 11″ x 9.5″
Button eye 9 mm, black, 2; or equivalent button (as the eyes)
Bead 5mm, black, 1; or equivalent button (as the nose)
Zipper, Metal, 4″ - if you need to shorten the metal zipper from a longer zipper
Sewing machine
Sewing needle, pins, matching threads
Scissors
Water Erasable fabric marker, for light color fabric
Tweezers, blunt point tips, for turning small part inside out
Fabric glue, or Quick-dry adhesive
Printer, 8.5″ x 11″ cardstock paper for the template and papers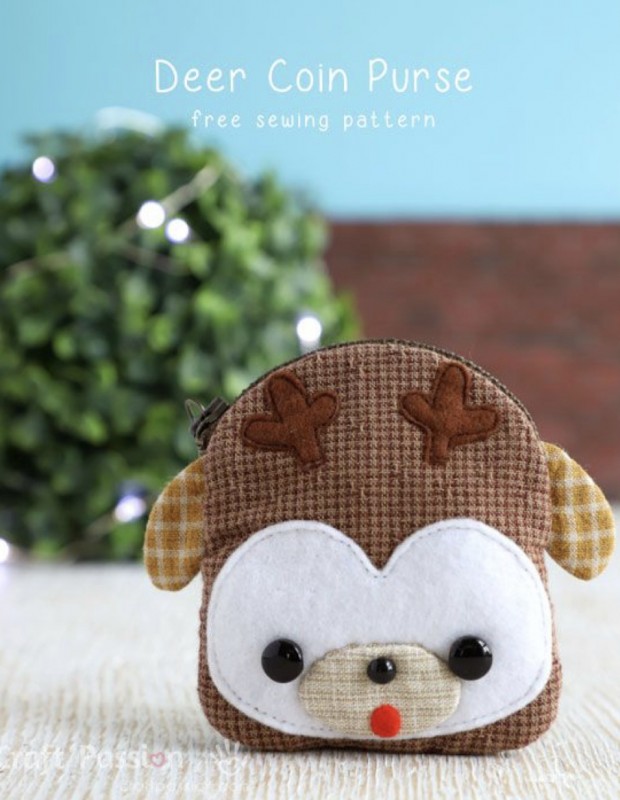 Get trendy sewing ideas for free
Are you looking for some amazing sewing craft ideas? Some super easy and beginner friendly patterns? Well, you are definitely in the right place as you will be learning a lot of DIY crafts here. Just click on that sign up button to get started.