DIY Unicorn Hoodie Costume with Rainbow Tutu
Sing along, don't play with my tutu! Yes, just give them more tutu to do the pirouette and in rainbow colors too!! Ain't you excited about this very bright and colorful performance costume. It's a unicorn hoodie costume with a rainbow tutu! How cool is that? The tutorial is an easy route to getting this done, so let's make this lovely unicorn costume for our beautiful ballerinas and drama queens! Haha!
Materials needed:
white hoodie
white leggings
less than 1/4 yd of stretchy gold fabric for the horn
gold embroidery thread for the horn
1 sheet of white felt for the ears
pink felt for the tummy and ears
fleece in 6 different colors, 1/2 yd. of each (or you could use 3 colors and get 1 yd each, etc.)
tulle in 6 different colors, 1 yd of each
1.5″ satin ribbon in coordinating colors, 2-3 yds of each (depends on the size of your skirt)
thread in coordinating colors
wide elastic for tutu waistband
narrow elastic for hood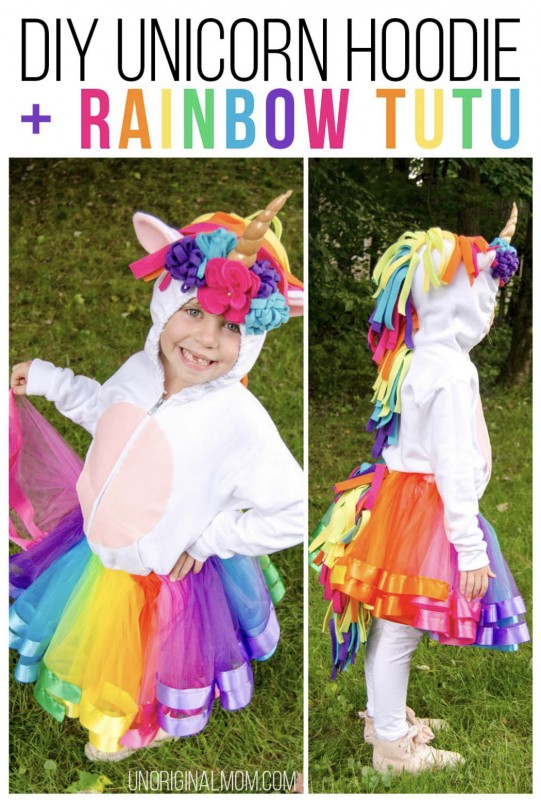 Get trendy sewing ideas for free
Are you looking for some amazing sewing craft ideas? Some super easy and beginner friendly patterns? Well, you are definitely in the right place as you will be learning a lot of DIY crafts here. Just click on that sign up button to get started.